The Orangutan Foundation is pleased to support the 'The Helen Doron Educational Group' with the "Hello My World!" Campaign
The Helen Doron Educational Group stands at the forefront of innovative educational systems, providing exclusive learning programmes and quality educational materials for babies, children, and adolescents.
In celebration of its 30th anniversary, the Helen Doron Educational Group has launched a campaign in over 30 countries to raise awareness for the plight of the orangutan and the destruction of their natural habitat.
What makes this campaign unique? The Educational group has united over 170,000 Helen Doron English students from more than 800 locations around the globe to make their voices heard through an international social and educational campaign they've called "Hello My World!"
Thousands of children have filmed short individual video clips to say "Hello My World!" and to show their support for saving the orangutan. Through this campaign, children worldwide are learning about the importance of cooperation and compassion for the world we share.
Hearing the voices of future generations join together for this important cause is truly inspirational. Because youth education is central to the Foundation's mission, we urge you all to take a moment to watch these video clips, and to join in on this special global tribute toward orangutan conservation!
After June 1st, the Foundation will join a panel of judges to decide the best video clip, and the winner will receive a once in a lifetime prize! In the meantime, parents and children are invited to vote for their favourites, by 'liking' and 'sharing' the videos via social media!
Additional information on the campaign and links to the children's video clips can be viewed at www.HelenDoron.com/world/hello.
The Orangutan Foundation is excited to partner with the Helen Doron Educational Group to promote their campaign and to join together to fight toward the same goal: protecting the endangered orangutan. "Hello My World!"
To find out more about the Helen Doron Educational Group, please visit their website: http://www.helendoron.com/ or their Facebook page: www.facebook.com/HelenDoronEG

And follow the Foundation on Facebook and Twitter to see our favourite videos!
Foundation Deeply Saddened by the Death of Trustee, Sir Terry Pratchett.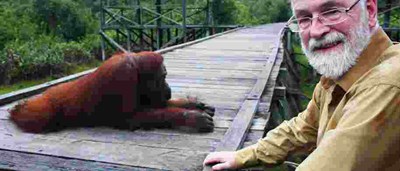 The Foundation trustees are deeply saddened by the death of fellow trustee, Sir Terry Pratchett. Sir Terry Pratchett was a loyal trustee of the Orangutan Foundation for 23 years, and a staunch advocate for the plight of the orangutan and its vanishing habitat.
Sir Terry's love for orangutans was apparent from his famous and playful characterization of 'The Librarian' in his Discworld book series, leading him to make two profound and inspiring films with the Orangutan Foundation.
Watch Sir Terry Pratchett's collaboration with the Foundation, 'Facing Extinction' (2013), here...
Sir Terry's legacy is to ensure a future for orangutans, forests and people.
Visit our Just Giving page https://www.justgiving.com/Rowan-Sharp/ dedicated to his memory.